Gir Forest National Sanctuary, Introduction
Gir is one of India's oldest sanctuaries, and is synonymous with the majestic Asiatic lion (Panthera leo persica). The only place in India to see this animal, this park can take legitimate pride in saving an endangered species, which was at the threshold of extinction in the start of the twenty-first century, by providing it a more secured habitat. The Gir ecosystem falls in Biogeography Zone-4 (the semi arid) and Biogeography Province 4-B. Gujarat Rajwara is the last remaining abode of the Asiatic Lion, Panthera leo persica. The Government of Gujarat has declared an area of 1412.1 sq km as Protected Area (PA) which comprises 258.7 sq km as National Park and 1153.4 sq km as Sanctuary. Besides this 470.5 sq km of forest area forms a buffer Zone as reserve, protected and unclassified forest. Thus, a total area of 1882.6 sq km makes up the Gir forest.
Gir Online Safari Booking System
http://girlion.in/ForestVisitDetails.aspx
For details please check this website . You are required to book your own permits on line. There are only 90 permits allowed in a day. 50% of the permits are booked on line. The remaning permits are available at the travel desk in Sinh Sadan. These are issued only to the visitors on first cum first served basis. You may have to stand in queue to ensure you avail one. The person has to have his identity card along without fail.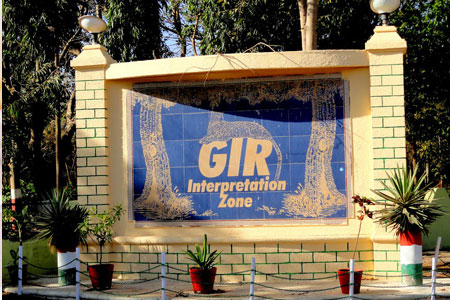 Devalia, Gir Interpretation Zone - 8 Kms
Devalia Safari Park also known as Gir Interpretation Zone - "Devalia", is the establishment of particular eco-tourism zone to reduce overload of tourists from Gir Forest Visit and to provide whole wildlife of Gir at single place in safe habitats.
This Interpretation Zone comprises of 412 ha chain link fenced area which is regarded as 'Gir in a nutshell' covering all habitat types and wildlife of Gir. The basic aim of creating this facility is to provide an opportunity of viewing lions and other animals in their natural habitat within a short period of time at cheaper rates.
There are animals like Asiatic lions, Leopards, Blue Bull, Sambhar, Chital, Jackal, Black buck, Wild Boar etc. The presence of Savana habitat and other flora is also another attraction of the area. Many rare birds including Peafowl and vultures are common in the Devalia.
For further details please check this link :
http://girlion.in/DevaliyaSafariParkDetails.aspx
Gir Safari Permits - Important Notes:
E-permits are NON REFUNDABLE.
Gir Jungle Trail remains closed from 16th June to 15th Oct every year.
Devalia Safari Park remains closed on every WEDNESDAY.
Reporting time should be 30 mins prior to departure.
E-permit doesn't include charges of Guide Service, Vehicle Service and Camera Fee. All this information will be available locally at Reception Center,Sasan-Gir.
Only 50% of Permits are available for online Booking.
---
Somnath Temple – 47 kms.
Somnath Temple is an ancient temple enshrining the sacred Shivlinga, one of the 12 Shiva Jyotirlingas in India. It is located on the shore of Arabian Sea. Mythological evidences put the foundation of this temple by Soma, the Moon. This temple was constructed by the moon and dedicated to Shiva (Somnath) as the moon got reprieve from the curse of Daksha at this place. Via Talala it would not take an hour to reach here !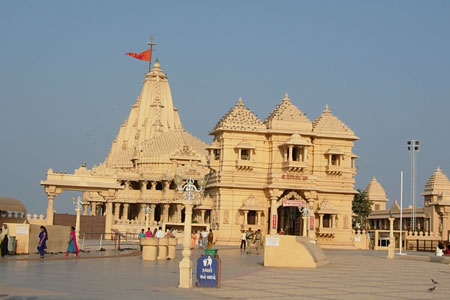 ---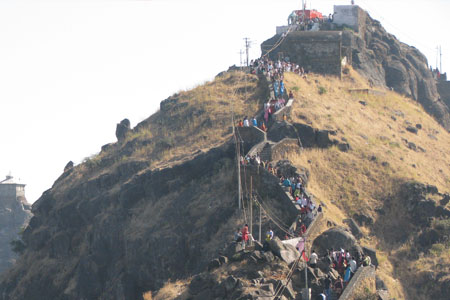 Mount Girnar – 60 kms.
Girnar Mountain is about 1100m (3630 ft) high and is an extinct volcano. It is 4km east of Junagadh and is the main tourist attraction in the area.
On the plateau about 180m (600 ft) from the top of the hill, is a group of beautifully carved Jain temples built between 1128 and 1500. Neminath, the 22nd tirthankara, is said to have died on Mount Girnar after living here for 700 years. There is a special marble temple dedicated to him here, and a black marble statue of him. The Mallinath Temple (1177) is impressive.
There is the peak of Ambaji, with a height of 3,330 ft (1,010 m), which is famous for the temple dedicated to the goddess Amba Mata dating back to the 12th century. It is said that a visit to this temple guarantees a happy marriage. There are good natural sceneries from the top of the mountain
---
Junagadh – 60 kms.
The history of Junagadh is chequered by the rule of the Mauryans, Kashatrapas, Guptas, Vallabhas, Chaudasamas, Gujarat Sultans and BabiNawab. In the earlier periods, Junagadh was under the influence of four major religions mainly, Hindu, Buddhist, Jain and Muslims. Both political powers and religious influences enriched the culture and created fantastic edifices leaving their mark on the architecture of Junagadh.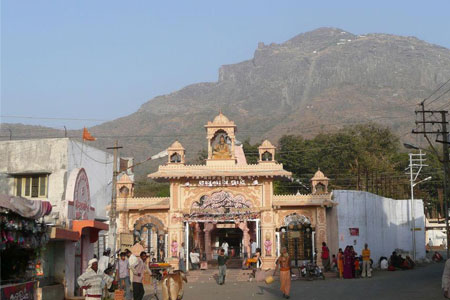 The Babi ruler of Junagadh, Nawab Mahobat Khan II (1851-82 AD) beautified Junagadh and patronized the construction of several buildings and urban design projects like Aina Mahal, Circle Chowk with clock tower and Dewan Chowk. Some of the other buildings of the Nawabi period are the Bahauddin College, Manoranjan Guest House, Mahobat Madresa (Narsi Vidya Mandir) and the maqbaras (mausoleums) of the royal family. All the architectural elements are highly decorative and reminds one, of the last phase of architecture of Luck now.
---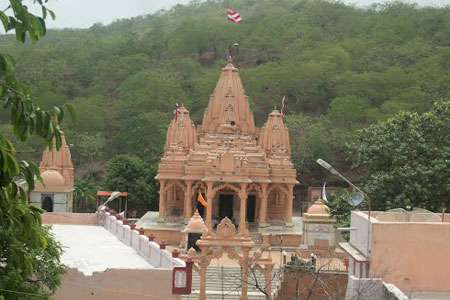 Tulsishyam–110 kms.
Tulsishyam Mandir is dedicated to Lord Krishna and is several hundred years old. It is a major tourist destination and pilgrim center. It is located in the heart of GIR National Park, in Amreli District of Gujarat. There are medicinal hot water springs and its a major attraction since its proved to get rid of certain skin diseases. The temple has more than 200 cows in the Gaushaala.
---
Diu Beach – 110 kms
Diu Beach, 110 Km from Resort, finest beaches in India, attracting tourists from all over the world. The island of Diu lies across Ahmedpur-Mandvi Gujarat. Diu beach in Gujarat is a sensuous blend of sun, sand and sea.
Diu is a real pleasant spot with soft sands, wondrous waters, swaying coconut canopies, captivating churches and fantastic forts. It is the fusion of the nature and history that comes across at Diu in Gujarat. Liquor Sale and consumption is allowed in this place hence it really picks up the fancy of Indian and foreign tourists !!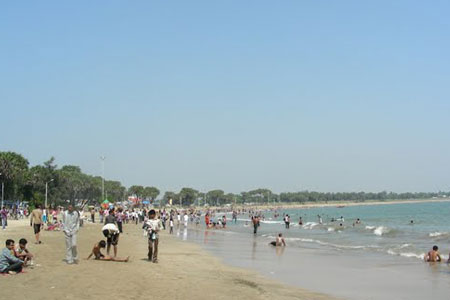 ---
Kankai Temple : 90 Kms, Banej Temple : 15 Kms From Kankai ( 110 Kms From Sasan)
Both these sites are located in the middle of dense forest area and have great historical importance. You have to pass though dense jungle while enroute this area hence you may see many birds, wild animals and the real wilderness of Gir Forest while you pass this area. It takes almost two hours to reach this place however the journey itself is very interesting for those who love nature, birdwatching and wildernss. Located in the heart of the Gir forest, 50 km from Sasan Gir, this is a shrine dedicated to Kankeshwari Mata, the benefactor of the shepherds of Gir forest.

The Indian mega-epic Mahabharata's famous character Arjuna comes alive here so this place is famous because of him. Once traveling through this forest, Pandavas gets thirsty and Arjuna uses his bow to discover water from the earth. There is a Mahadev temple here called 'Banej'. The main temple is "Shri Kankeshwari Mataji" also known as "Shri Kankai Mataji". Mataji is principal goddess (કુળદૅવી) to many castes in India; Bhawsar (bahekar), Uneval Brahmins, Bhadreshwar-Vanza, Vaishya, Suthars (Panchasara in Gurjar Suthar) which includes Padiyar and some other castes. A smaller temple for Bhudarjee Dada, Mataji's brother is erected behind the main temple. This is at a walking distance from the main temple. Shingavada (શિગૌદા) river flows on one side of the temple. Banej is the nearby religious place one can visit, around 15 km from Shree Kankai Temple. This is a very famous place surrounded by trees, wild animals and nature. Sometimes visitors can see lions near the temple or near the river as it's an open habitat for lions, second only to Africa.