OUR SERVICES
All tents & rooms have AC & TV facilities.
All tents have 24 hours hot water services.
We have generator back up.
Idea cellular services have better internet connectivity here.
Restaurant is open until late night & early hours!
Walking path all around the farm land !
We would plan your entire itenary for your stay.
We arrange pick up & drop facility if you are travelling by air or rail.
Nearest airport is Keshod, Diu and Rajkot.
Nearest railway station is at Somnath, Veraval, Jundagadh & Rajkot.
We arrange bird watching tours.
We arrange night walk tours in jungle areas.
We arrange special folk dances of your choice.
We arrange special arrangements for Senior Citizens.
Your vehicle is allowed to park in front of your tent!
We allow discounted tours, activities & stay arrangements for school children/college students.
We allow special discounted rates for NGO organizations & Social activities camps.
We offer very special rates for Senior citizens who desire prolonged stay!
We also book our entire property for HR & Training activities.
FOR RESERVATIONS PLS CALL +91 95375 77222 / 99222
" You don't have to live FOREVER, you just have to LIVE!"
"Not all those who wander are lost." - J.R.R.Tolkien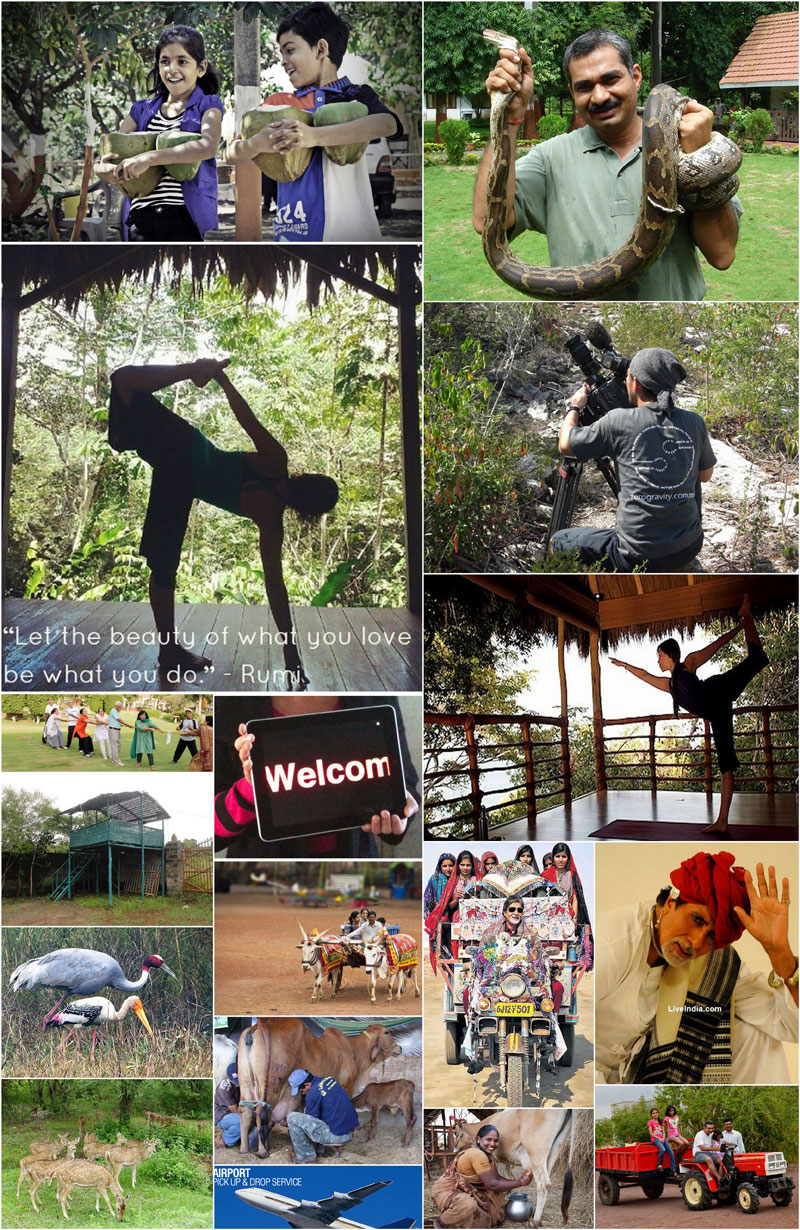 CAMP LEO & GIR PRIDE RESORT, GIR. GUJARAT.
CATEGORY
TARIFF PLANS


(@ DOUBLE OCCUPANCY, INCLUSIVE OF BREAKFAST & TWO VEG MEALS)

ACCOMMODATION TYPE
SEASON
16 TH OCT - 15 TH JUN
NON FESTIVE PERIOD
AMERICAN PLAN-APAI
HIGH SEASON
HOLI/DIWALI
CHRISTMAS/JANMASHATAMI
AMERICAN PLAN-APAI
ELEVATED COTTAGE


( 10 FEET ELEVATED COTTAGE WITH BALCONY OVERLOOKING FOREST )

Rs.8000
Rs.10000
SWISS AC TENTS


(REAL LINEN TENTS WITH PRIVATE SIT OUT, WITH EXTRA SWING, CHAIRS AND BED)

Rs.6500
Rs.8500
DELUXE AC ROOMS


( FIRST FLOOR WITH BALCONY )

Rs.6000
Rs.7000
DELUXE AC ROOMS


( GROUND FLOOR WITH SIT OUTS )

Rs.5500
Rs.6000
EXTRA BED
Rs.1950
Rs.2500
ABOVE RATES ARE INCLUSIVE OF ALL APPLICABLE TAXES & MEALS
KIDS UNDER 6 YEARS, COMPLIMENTARY ( ONLY TWO KIDS WITHOUT EXTRA BEDS )
BANK DETAILS
BANK DETAILS: NAME: CAMP LEO, BANK: HDFC , BRANCH: VERAVAL 362265.
ACCOUNT NUMBER : 50200018082690, IFSC : HDFC0000230
RATES ARE SUBJECT TO CHANGE WITHOUT PRIOR NOTICE
www.girprideresort.com c/o Parmer Farms, Village: Bhalchhel. Sasan. Gir Forest.
FOR BEST DEALS CALL NOW : 095375 77222 / 08511114400 / 82380 12527
RATES INCLUDE : Arrival Lunch, Evening High Tea/Coffee, Dinner, Morning Bed Tea / Coffee, Breakfast with Tea / Coffee,
Rates also include a welcome drink, non alcoholic and two complimentary mineral water bottles on arrival.
CHECK IN: 13 00 PM. CHECK OUT: 10 00 AM.
Complimentary meals are served only in the Restaurant. Room Service Food charged extra + 10% Service Charge.
Any early check in or late checkout will be subject to availability and will be charged accordingly.
Any early departure would be liable to pay room night charges for the entire booking period.